Estonian junior Champion
Posted by Irene on March 15th 2014
"KENZO" ZSO GYEMANTJA VERSACE Tallinn 8.2.14 judge Horst Kliebenstein jun exc 1, jun CAC, BOS with co-owner, groomer and handler Eija-Maaria Jussila Harju Tallinn 1.-2.3. judges Dusan Paunovic and Cindy Pettersson both jun exc 1, jun CAC, BOB with handler Taija Niemi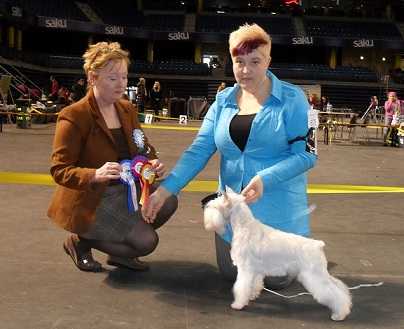 Kenzo with judge Cindy Pettersson from Sweden and handler Taija Niemi, photos: Jaana Myrskykari
Jyväskylä INT Show 23.2.2014
Posted by Irene on February 24th 2014
Our new junior Avis Gagatek in his first show jun exc1, CQ, BM2, res.CAC judged by Gro Svandalsflona from Norway. Eija-Maaria Jussila co-owner had groomed him. Thank you the breeder Alina Stelmach and the holder family Kylväjä for taking good care of "Jalo". Avis "Jalo" is the farther of our puppies now one boy and four females!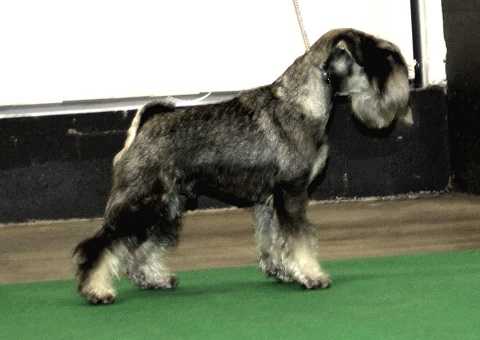 Avis Gagatek "Jalo" photo: Eija-Maaria Jussila
Turku INT Show 19.1.2014
Posted by Irene on January 24th 2014
Great day ! Montparnasse SD von Portenschlag best male exc1, CAC, CACIB, BOS and became Finnish Champion! Judge Dirk Spryut from Belgium, breeder Uli Portenschlag, owners Eija-Maaria Jussila and Irene Häyry, grooming Eija-Maaria Jussila, handler Irene Häyry
My granddaughter Ellen's little Miki-boy / Ulnight Butterfly Fin for Willy Lee was in his first show at the age of 9 months and succeeded nicely being in junior class exc2 with CAC Quality, judge Maite Conzalbo from Spain.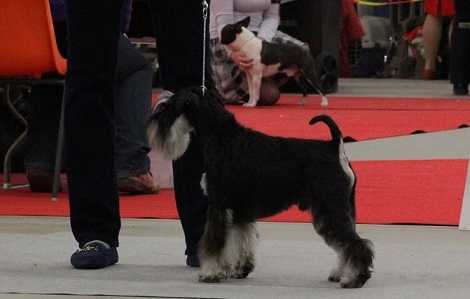 To honour "Manu" 13 years old!
Posted by Irene on January 8th 2014
Christmas 2013 Our beloved Manu had his 13 th Birthday!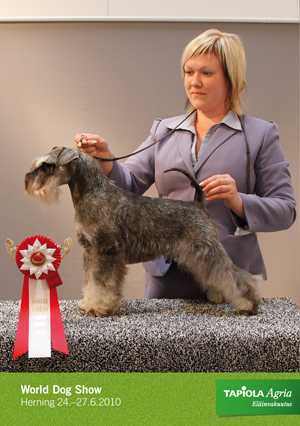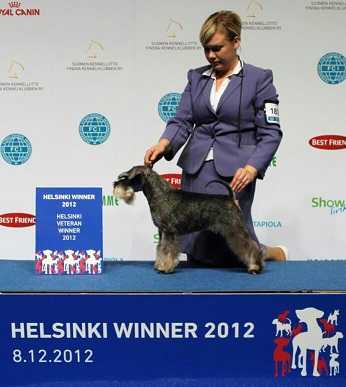 WORLD VETERAN WINNER-10, INT & NORD CH, FIN, LTU, EST, S & N CH, EEVCH, LTVW´2010, LT VCH, BALTVETW-10, LV VETCH, BALT VETCH, EEVW-11, EEVW-12, EEVW-13, HeVW-12, VW-12, BALTVETW-13, FinnSieger WILLY LEE OSVALD-PEPPER Breeder: Irene Häyry Owners: Markku Vuorinen and Nora Ylikylä also groomer and handler In the photo Manu and Nora
Baltic Veteran Winner 2013
Posted by Irene on December 3rd 2013
Our unbelievable "Manu" Multi CH Willy Lee Osvald-Pepper made maybe a new record being a Baltic Veteran Winner 2013 at the age of almost 13 years old! He is already Baltic VetranWinner-10 but being BOS, judge Benny Blid von Schedvin, he became also Baltic VetWinner-13! Nora Ylikylä you are also unbelievable having courage to him with you to big contests. The judge said that he got tears in his eyes when he sees so excellent dog of that age!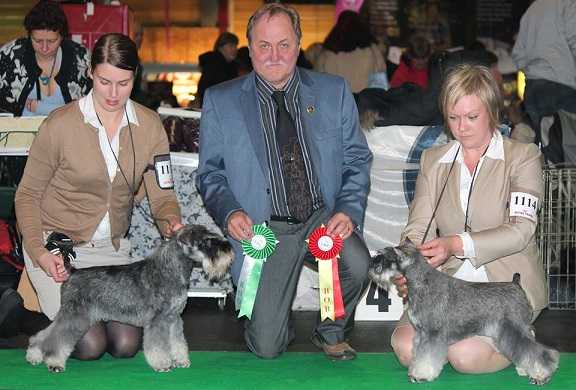 BOS, BALTIC VETWinner 2013 "Manu" and judge Benny Blid von Schedvin, Nora with BOB Axciums' female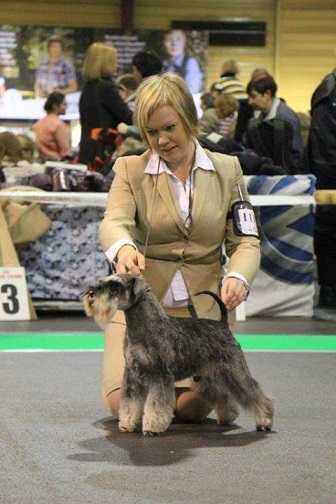 Nora Ylikylä in the BOB veteran ring with Manu, Baltic VETW-13
Interesting trip to Bornholm island in Denmark
Posted by Irene on November 6th 2013
Panomaks X-Trail attended a INT Show in Bornholm in August and got CAC in the competition from judge Petra Junehall, which meant that he became with that CAC, just being two years old, at the same time Danish, but also Finnish Champion! We had great fun in that trip! So "Maks" is now: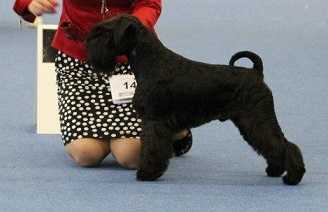 FI&RUS&DK CH, JW-12, W-12, RKF-CH Panomaks X-Trail, breeder: Julia Vishnevskaja, owners Eija-Maaria Jussila & Irene Häyry