Pello 21.7.2007
Posted by Irene on July 23rd 2007
Miniature schnauzers black and silver: One of the most distinquished judges RAINER VUORINEN placed our Tino, Willy Lee Ubertino BOB (and CAC) in Pello. Congratulations to the owners Teija Viitala and Kari Uutela and many thanks to the groomer Anja Hämälä from CappasWaan kennel. Tino is the son of FIN CH Willy Lee Umberto and our kennel's "house dog" Willy Lee Kitty. Now two schnauzer speciality judges Rainer Vuorinen and Hilkka Salohalla has placed Tino BOB, which makes us all very happy!
Kokkola INT 14.7.2007
Posted by Irene on July 20th 2007
In black and silver miniatures: Old gentleman FIN CH Willy Lee Zimmy 8 years and again in the rings and not bad at all! BOB vet, best male 2nd. His daughter Willy Lee Naomi exc3. Judge Denis Kuzelj from Slovenia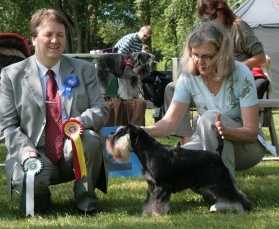 1.7.2007 Latvian national show in Ogre
Posted by Irene on July 5th 2007
FIN CH Silverjoy Crystal daughter of FIN CH Willy Lee Kecke, owner Anne Jaakkola, BOS and became Latvian Champion, groomed by Nora Ylikylä, judge Beata Petkevica, Latvia. Congratulations to Anne and "Molla"!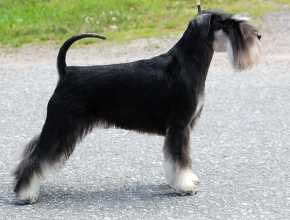 foto Markku Vuorinen
Rossi still going strong!
Posted by Irene on July 2nd 2007
Black miniature schnauzer FIN CH Finnsieger Willy Lee Black Rascal "Rossi" in August 9 years old, owner Irene Häyry in Estonia 30.6.2007 Pärnu INT exc2, res.CACIB, judge Pettko Csaba from Hungary and in Karjaa INT 1.7.2007 exc2, BOB veteran, judge Patrick Ragnarsson from Sweden
Estonia Pärnu INT Show 30.6.2007
Posted by Irene on July 2nd 2007
Hämeenlinna 17.6.2007
Posted by Irene on June 17th 2007
Black and silver miniature schnauzers, judge Ann Rode from Sweden BOS, CAC Willy Lee Avanti Noriko, daughter of CH Willy Lee Avanti, owners Juha and Päivi Rasinmäki, handled by Juha. Congratulations to my friends Juha and Päivi!