Nokia 18.8.2007
Posted by Irene on August 20th 2007
Result in Nokia by the judge Inese Pablaka from Latvia in salt&peppers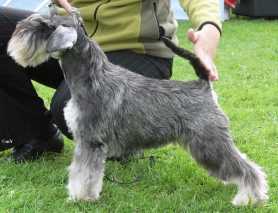 foto Miika Ylipahkala Tiffany Astronaut exc1/2, CAC, breeder Mirka Sucha, owners Katja Pitkänen and Irene Häyry, congratulations to us and specially to Mirka! Tristan Astronaut exc1/4, res.CAC, breeder Mirka Sucha, owners Kennel Willy Lee, Dumond, Uptight Jack's and holders MarjaTerttu Rusi and Pekka Nisukangas. Faustkämpfen Princess-Pepper exc1,4, breeder Kikko Askola-Mauno, owners kennels Willy Lee and Dumond, grooomer Nora Ylikylä, holder and handler Nina Filoras. Congratulations to Kikko, Nora and Nina! in black-and-silvers judge Inese Pablaka from Latvia Willy Lee Pietro exc1/3, owners kennel Willy Lee and Marja-Terttu Rusi in whites BOB puppy Willy Lee Dumond Brooke, owner family Raitio
Again CAC to Tino! Joensuu INT Show 12.8.2007
Posted by Irene on August 12th 2007
In Joensuu 12.8.2007 INT Show, judge Joao Vieira Lisboa in black and silver miniature schnauzers best male 3, CAC Willy Lee Ubertino, owners Teija Viitala and Kari Uutela. Warm congratulations! Also yesterday best male 2, res.CAC, judge Paavo Mattila.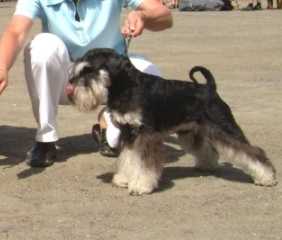 Today FCI confirmed Manu INT CH!
Posted by Irene on August 9th 2007
Really a great day today! FCI confirmed FIN&S&N&EST<U CH Willy Lee Osvald-Pepper also INT CH. Thousand thanks to the owners Nora Ylikylä and Markku Vuorinen about everything concerning of Manu: an excellent family life, excellent grooming and handling by Nora and training by Make - what else could a breeder ask when giving an excellent puppy to the family.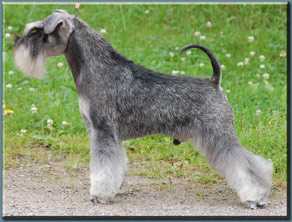 foto Markku Vuorinen
ISPU-Klubsieger "Vili" Willy Lee Avanti
Posted by Irene on August 8th 2007
Officially 18.7.2007 ISPU-Klubsieger: FIN CH, Finnsieger, JW-02, ISPU-Winner2004 Willy Lee Avanti! A lot of congratulations to the owner Teija Virtaranta, who has been also handler all the time for Vili. Many thanks also to the groomer Marjut Helle, who has taken care of Vili's hair.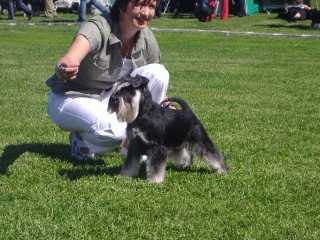 First Willy Lee Agility Champion - FIN AVA Willy Lee Caramia Wilma
Posted by Irene on July 31st 2007
The first Willy Lee Agility Champion 1.7.2007 Willy Lee Caramia Wilma FIN40154/01. Thousands of congratulations to the owner and leader Markku Nummela.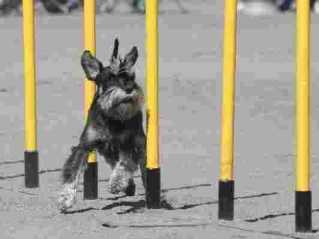 Wilma is one of the few miniature schnauzer agility champions in Finland. Her father is FIN CH, Finnsieger Willy Lee Dixie FIN16578/95. "Dino" is also the father of the other AVA Champion Wexell Luuvart Cecilia, who is also the world champion. Also thanks to "Dino" about these two bright daughters!
Pori INT Show 29.7.2007
Posted by Irene on July 29th 2007
Extremely good day for Willy Lees! Judge June Wall from Irelend, all miniature schnauzers: Black and silvers: BOB, cacib FIN CH Willy Lee Viktor, owners Irene Häyry and Tarja Kuusisto, handled by Tarja! best male 3, res.CAC Willy Lee Be My Rainman owned by Willy Lee kennel, handled by Jaana Myrskykari Best breeders group kennel Willy Lee: Willy Lee Viktor, Kid Kristel (excl), Naomi (excl) and Be My Rainman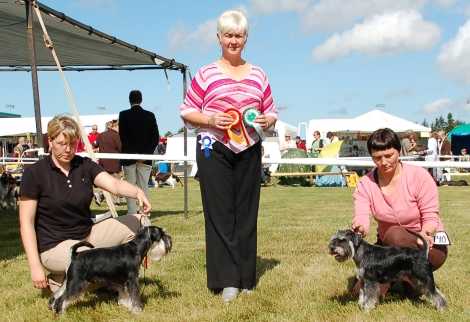 BOB FIN CH Willy Lee Viktor, judge June Wall, BOS Silverjoy Flanel, foto Markku Vuorinen
in salt & peppers: BOB, cacib FIN&S&N&EST CH Willy Lee Osvald-Pepper, owners Markku Vuorinen and Nora Ylikylä, groomed and handled by Nora. Congratulations to my friends Make and Nora! and many kisses and hugs to "Manu" - the champion!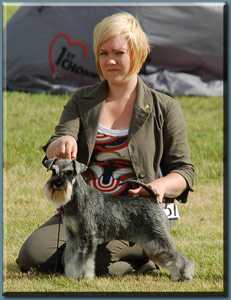 BOB "Manu" Willy Lee Osvald-Pepper, foto Markku Vuorinen best male 4, res. CAC Tristan Astronaut, owners Irene Häyry, Katja Pitkänen, Jani Kalliomäki and "Ripa" having home at Pekka Nisukangas and Marja-Terttu Rusi, handled by Irene. Special thanks to Pekka and Marja-Terttu! BOS, CAC, jun1 Faustkämpfen Princess-Pepper, breeder Kikko Askola-Mauno, owners Irene Häyry and Katja Pitkänen, holder Nina Filoras, groomed by Nora Ylikylä and handled by Jaana Myrskykari! Congratulations and thanks to Kikko about this beautiful dog.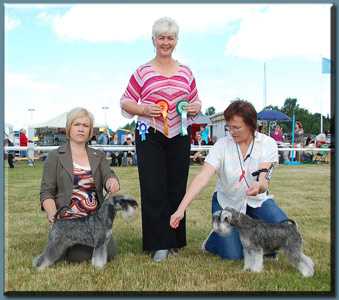 Manu and Pirre, BOB and BOS foto Markku Vuorinen