FIN CH Willy Lee Fizzy FinnSieger
Posted by Irene on January 9th 2008
Finally we noticed - Kikko Askola-Mauno, the owner and me, the breeder of "Elli" FIN CH Willy Lee Fizzy that she could have got the FinnSieger title many years ago, but we have just ignored that. Anyway Elli is now almost 13 years old, in good shape and living as a family dog in Kikko's big farmhouse and the application has been send to the board. Special thanks to Kikko and Jarno and the whole family taking so good care of one of my best breedings. Many thanks also to the judges Elina Koivunen (Wartiainen-Jyrkkämäki), Elina Tan-Hietalahti and Walter Schicker who have esteemed her beauty worth of winning this special title. Elli is also the best mother you could imagine and she has many champion offsprings.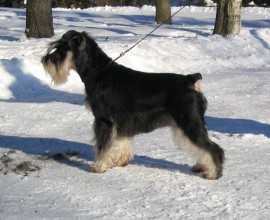 Birthdaykiss 7.1.2008
Posted by Irene on January 7th 2008
A big kiss to the best Kepo (kennelboy) as I know in the world my beloved husband PAAVO from me and here also from the puppy born in your last year's birthday Vilivaltteri (Willy Lee Astro-Pepper)!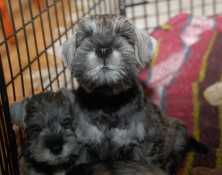 Kajaani INT cacib Show 6.1.2008
Posted by Irene on January 7th 2008
Miniature schnauzers black and silver, special judge Nina Karlsdottir from Sweden Congratulations to Oulu - to Teija and Kari, owners of both my special boys! "Caro" FIN Ch Willy Lee Umberto ch class exc1, best male 2 and became at the same time FINNSIEGER! Thousand thanks to the special judges Soile Bister, Hilkka Salohalla and Nina Karlsdottir. "Tino" Caro's son Willy Lee Ubertino won also his class intermediate exc1, best male 3.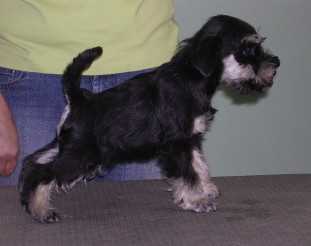 Hopefully a future champion Tino at the age of 2 months 14.6.2005
Stockholm 15.-16.12.2007
Posted by Irene on December 17th 2007
A fantastic, nice trip to Stockholm International Dog show to see what happens in our neighbour country. We saw interesting judging in mini rings from Brasilia, Greece and also from Finland by famous Hans Lehtinen. The day was not too good for Finnish miniatures but allright.
Instead the travelling company was the best possible - Eija-Maaria from Peacemaker's was as usual my roommate, then our friends Katja, Pirkko, Jaana and Taija made our travel pleasant and we had great fun. From results in black and silvers in intermediate class Willy Lee Wild-Winner 1, open class father of our "Raiku" FIN CH Chelines Idahos-Potato "Jose" 1/4 and Taija's "Taisto" FIN CH Peacemaker's Encore 1 and "Totti" a Cheantake p&s boy 1. Thank you for all my friends about a couple of days that we had possibility to be together and enjoyed of having fun!
Helsinki INT Winner Show 8.12.2007
Posted by Irene on December 9th 2007
Miniature schnauzers black and silver and salt&pepper judge Damir Skok, Croatia Jun exc2, best male 2nd, best Finnish black and silver miniature schnauzer Peacemaker's Frosted Edward. Congratulations to the breeder Eija-Maaria Jussila! "Eetu" was groomed and handled by the owner Irene Häyry. Thousand thanks also to the holder Seija Irjala, who has trained "Eetu" to the city life.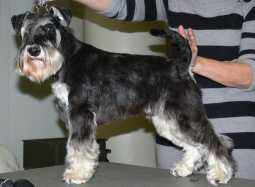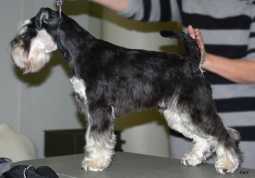 Peacemaker's Frosted Edward "Eetu" Photos: Miika Ylipahkala
Jun exc Willy Lee Wild-Winner, owner Pirkko Koski. Photo: Miika Ylipahkala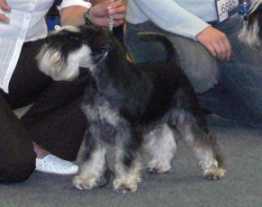 Champion class exc4 FIN CH, JW-02, ISPU-Winner04, ISPU-Sieger, FinnSG Willy Lee Avanti, owner Teija Virtaranta Salt&peppers:
Champion class exc2 INT CH Willy Lee Osvald-Pepper, owners Markku Vuorinen and Nora Ylikylä. Photo: Markku Vuorinen Intermediate exc2 Tiffany Astronaut, breeder Miroslava Sucha Praque, owners Katja Pitkänen and Irene Häyry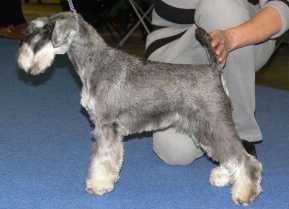 Tiffany Astronaut "Penni", Photo: Miika Ylipahkala