Nordic Champion!
Posted by Irene on March 8th 2008
Our dearest "Manu" Willy Lee Osvald-Pepper is now also the first Willy Lee Nordic Champion with all his other titles. We really thank Markku Vuorinen and Nora Ylikylä from Cheantake kennel for their all effort and ability to make excellent dogs to become champions. Congratulations to them and many hugs to Manu. He is a real sweetie!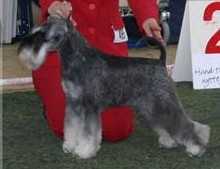 Ylihärmä 23.2.2008 1 & 2
Posted by Irene on February 26th 2008
Salt & pepper miniatures, judge Kirsi Kentala Tiffany Astronaut, open exc1, best female 2nd, res.CAC
Estonia Tallinn CACIB Show 8.2.2008
Posted by Irene on February 9th 2008
Success in Tallinn! Salt&pepper miniature schnauzers, judge Lilian Hanniste, Estonia BOB, CACIB, CAC Tiffany Astronaut, owners Katja Pitkänen and Irene Häyry, handled by Irene. Congratulations to the breeder Mirka Suchá to Praque. We are really happy about this beautiful creature you have given us to Finland.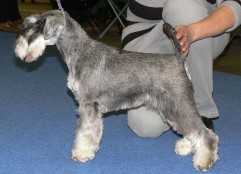 photo: my dear friend Miika
Fantastic day for Willy Lees !
Posted by Irene on January 26th 2008
Turku TOP Dog INT Show 26.1.2008 miniature schnauzers Black and silver judge Barry Day, Great Britain BOB, CACIB, CAC Willy Lee Wild-Winner, owner Pirkko Koski, handled by Tarja and Katja Best male 2, res. CACIB champion class exc1 FIN CH, JW-04, ISPUSg-04, Finnsg, ISPU-Klubwinner Willy Lee Avanti, owner and handler Teija Virtaranta Best male 4, res. CAC open class exc1 Willy Lee Be My Rainman owner and handler the breeder
In salt&peppers, judge Ulf Bråthen, Denmark Intermediate class exc1 Tiffany Astronaut, breeder Mirka Sucha, owned by Katja and Irene, handler Tarja Kuusisto
Handsome visitor
Posted by Irene on January 20th 2008
Estonia Tartu National show 12.1.2008
Posted by Irene on January 12th 2008
Miniature schnauzers black and silver and salt&peppers, judge Eeva Rautala, Finland In black and silvers: Willy Lee Be My Rainman, CAC, best male, BOS In salt&peppers: Rumba dai Medici intermediate exc1, best female 2nd