Jyväskylä INT Show 23.11.2008
Posted by Irene on November 24th 2008
Black and silver miniature schnauzers, judge Saija Juutilainen, Finland "Raiku", Willy Lee Be My Rainman exc2 open class, best male 2, CACIB, res.CAC, owned and handled by the breeder.
Seinäjoki INT Show 26.10.2008
Posted by Irene on November 24th 2008
Salt&pepper miniature schnauzers, judge Maija Mäkinen, Finland FIN&EST CH Tiffany Astronaut exc2 ch class, best female 4
Porvoo 14.9.2008
Posted by Irene on October 5th 2008
Miniature schanuzers black-and-silver, judge Wenche Eikeseth, Norway Willy Lee Pietro exc, best male2, res.CAC, owner Marja-Terttu Rusi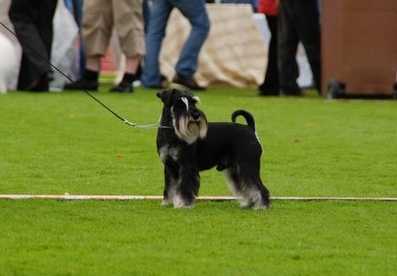 Some last show results: Estonia Tallinn CACIB and Speciality, Hämeenlinna CACIB, Tampere Speciality Shows!
Posted by Irene on September 1st 2008
In Tallinn 16.8.08: Judge: now the late Mr. Lucien Doru Pipas from Romania in black and silvers: FIN CH Willy Lee Wild-Winner open exc1, BM4 in pepper&salts Rumba dai Medici open exc1 In Tallinn 17.8.2008 speciality show, judge Viktoras Avtusko in salt&peppers Rumba dai Medici ecx1, BF 2, CAC Hämeenlinna 24.8.08 speciality judge in all colors Mari Markio from Finland: in salt&peppers FIN&EST CH Tiffany Astronaut ecx3, BF 4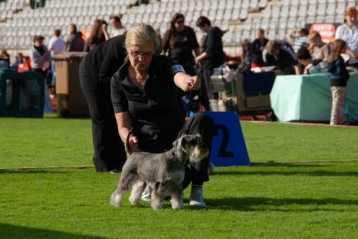 FIN&EST CH Tiffany AStronaut, photo by Miika Ylipahkala
in blacks FIN CH, Finnsieger Willy Lee Black Rascal ecx1, BM4, BOB vet Tampere, speciality show 31.8.2008 in black and silvers judge Bo Skalin from Sweden Peacemaker's Frosted Edward exc1, BM4 FIN CH Willy Lee Wild-Winner exc2 in blacks judge Gunnel Adlercreutz: FIN CH;Finnsieger Willy Lee Black Rascal exc1, BOB vet, BIS vet3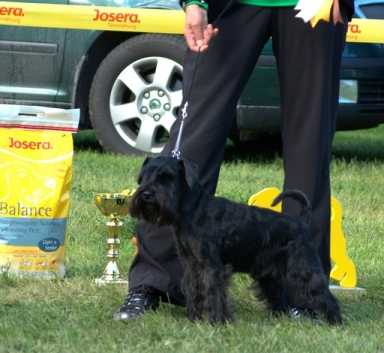 photo: Jarmo Palander
Rico became FIN Champion today in Nokia!
Posted by Irene on August 9th 2008
In Nokia speciality judge Hilkka Salohalla awarded Willy Lee Wild-Winner "Rico" with his seventh CAC just when he is now two years old and he became FIN CH. Rico is owned by Pirkko Koski and handled by the breeder Irene Häyry.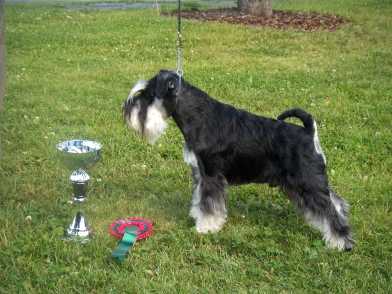 The breeder is happy about her 61st FIN champion of her own breedings! Willy Lee Wild-Winner FIN CH, seven CAC's, two CACIB's.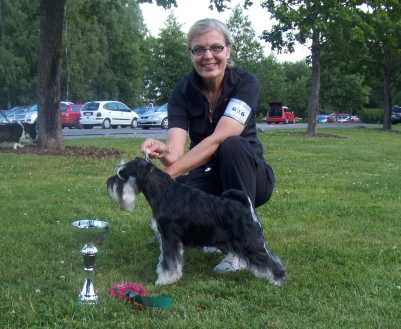 International Show in Pori 27.7.2008
Posted by Irene on July 28th 2008
VIKI BOB AGAIN IN PORI!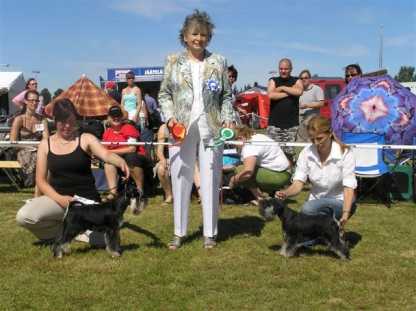 BOB Willy Lee Viktor and Tarja, judge Mrs. Frances Hickey, Kikko with BOS, photo Eeva Lahtinen Miniature schnauzers judge Frances Hickey from Ireland. FIN CH, Finnsieger Willy Lee Viktor "Viki" repeated his last year's victory in Pori Dog show being again WINNER, BOB, CACIB in black and silvers. Viki is owned by the breeder and Tarja Kuusisto who handled him with her gentle touch and ability to show dogs. Thank you Tarja! My beloved "Eetu" Peacemaker's Frosted Edward, breeded by Eija-Maaria Jussila, exc1 and best male3, CAC, handled by Irene, many thanks to Eetu's holder Seija Kontturi, who takes so good care of this lovely boy and also to Eija-Maaria who has given him to me. In blacks Slovakian Kristopher Bikin dvor was exc1, best male3, res-CACIB, res-CAC, breeder Zuzana Havlikova, owned by Irene Häyry and Katja Pitkänen. In salt&peppers: FIN & EST CH Tiffany Astronaut exc1, best female3, res-CACIB, handled by Katja, owned by Irene and Katja. In breeders group kennel Willy Lee got also honorary price with the group Willy Lee Viktor, Wild-Winner, Naomi and Avanti-Noriko. Thank you Tarja and Janne, Katja, Pirkko, Juha and Päivi for waiting until the end of "the big ring" and Eija-Maaria, Kikko,Taija for the company and Eeva also being a photgrapher and all the other friends about the nice chats around the competition ring. What a lovely, sunny day!