Tampere INT Show 15.3.2009
Posted by Irene on March 17th 2009
GOOD DAY FOR WILLY LEE OFFSPRINGS AND BREEDINGS in black and silver males! Best male, BOS, Cacib, CAC the son of FIN&EST CH Willy Lee Umberto Barskin Billy the Kid, congratulations to the kennel Barskin Best male 2nd res.Cacib FIN CH Willy Lee Wild-Winner, owner Pirkko Koski, handled by Tarja Kuusisto Best male 3rd, res. CAC Willy Lee Be My Rainman, owned and handled by breeder Irene Also well Once More Maly kavalir excellent 3 in open class, handled by Tarja. In peppar and salts: Best female 2nd, res.Cacib FIN&EST CH Tiffany Astronaut, breeder Mirka Suchá, owners Katja Pitkänen and Irene Häyry, groomed by Eija-Maaria Jussila and Katja Pitkänen, handled by Irene. Congratulations to all of us!
Winter greetings to the breeder from Cheantake kennel!
Posted by Irene on March 5th 2009
In Finland we have had a real winter and my friends from Cheantake kennel Nora and Markku sent me winter greetings from their Willy Lee dogs Manu and Keke. I want to share these beautiful photos shooten by Markku with you all.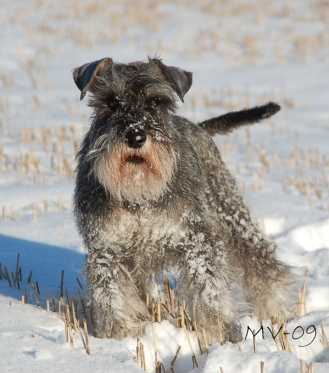 Manu in the snow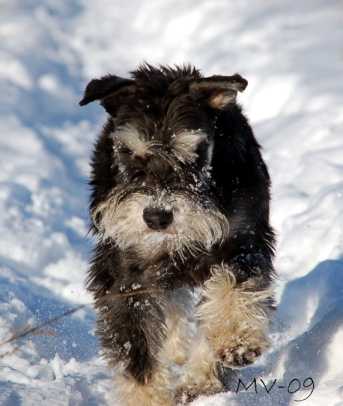 Keke also enjoying of winter
Also I got the photo of this eight years old gentleman Manu alias INT and Nordic CH Willy Lee Osvald-Pepper trimmed ready for veteran rings! Handsome boy!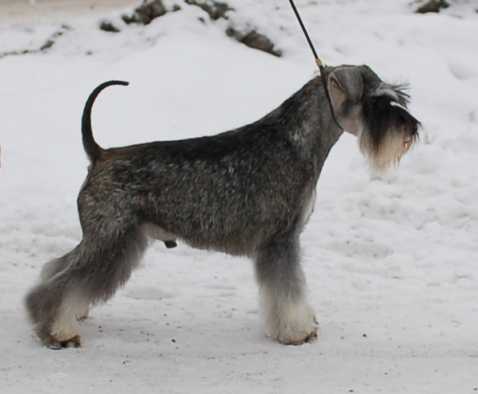 All photos shooten by Markku Vuorinen from Cheantake kennel
Greetings from Praque/Praha!
Posted by Irene on February 25th 2009
Last week when visitig Praque I met Mirka Suchá, the breeder of out two dogs Tiffany and Tristan Astronaut. As a result of my visit I brought with me a new salt&pepper male puppy Julian Astronaut "Juri" to Finland for our kennel and straightly going to live in the house of his co-owners Pekka Nisukangas and Marja-Terttu Rusi. Juri was born in last December from INT CH Honza-Dutch v.d. n'Oppaser and CH Oxana Astronaut. He is a really sweet and strong boy! A couple of months ago I was very lucky to get from Czech Republic another boy, a really black, funny, now almost 8 months old boy Cooper Oric central FI10828/09. Cooper's breeder is Libor Sakar. Thank you both Mirka and Libor about these nice, promising boys!
Turku International CACIB Show 25.1.2009
Posted by Irene on January 26th 2009
Miniature schnauzers black and white, judge Gertrud Hagström, Sweden FIN CH Willy Lee Wild-Winner best male 3, exc2, res.CACIB Once More Malu kavalír, exc3 Willy Lee Be My Rainman exc4 Miniature schnauzers black, judge Christian Vantu, Romania Kristopher Bikin dvor, exc1, res.CACIB
Lahti 18.1.2009
Posted by Irene on January 19th 2009
Miniature schnauzers black-and-silver, judge Gunnel Adlercreutz, Finland Once More Maly kavalír, excellent 2
photo: Jin