Hämeenlinna 28.6.2009
Posted by Irene on June 28th 2009
Enzo in Finland
Posted by Irene on June 7th 2009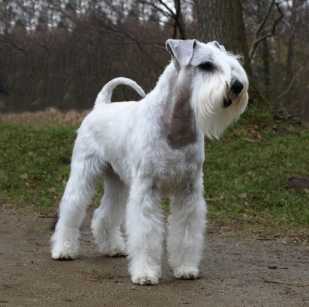 On behalf of kennels Peacemaker's and Willy Lee we have the great pleasure to welcome Enzo vom Landeskroner Weiher to Finland. Enzo's father is FR&LUX CH, J CHE CH Xebec Ballack and mother GER CH Wandorra v. Schloss Letitia. He is now eleven months old and his breeder is Angelika Helsper. He has got a couple of junior CACs in Germany and we wish him a good luck also in other dog shows. Eyes checked 11.6.2009 - clean
Black Tiger
Posted by Irene on June 1st 2009
Thanks to Eija-Maaria of kennel Peacemaker's about this new, fantastic puppyboy Black Tiger to our kennel. Father is old gentleman FIN CH, FinnSieger Willy Lee Black Rascal FIN37362/98 and mother Peacemaker's Black Kitty-Cat FIN28488/04. He is born 12.04.09 and living in Harri Grönman's house.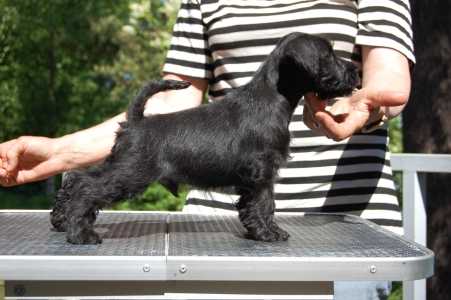 Photo: Anne Leino
Helsinki 24.5.09 Aptus Show
Posted by Irene on May 24th 2009
Judge Erwin Deutscher, Austria in all colours pepper and salts: BOBvet, best male3 Multi CH Willy Lee Osvald-Pepper owner Cheantake kennel Ecx3 FIN&EST CH Tiffany Astronaut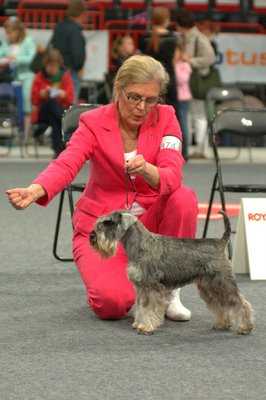 Photo: Jarmo Palander black-and-silvers: Exc2, best male 3 res.CAC Peacemaker's Frosted Edward
Rauma 23.5.2009
Posted by Irene on May 23rd 2009
Mini schnauzers all colours judge MATTI LUOSO from Finland:
photo: Markku Vuorinen black-and-silvers: BOB, CAC Willy Lee Be My Rainman FIN11301/06 - became FI & EE CH at the same time, has gained his other CAC's in juniors from Jul Hamlot, Norway and Zafra Sirik, Israel, in intermediate from Keijo Alén, Finland and today in open class from Matti Luoso, Finland. Estonian CAC he has got in Tartu from judge Eeva Rautala, Finland, also CACIB from Saija Juutilainen, Finland. Raiku is my "house dog" which makes me even happier! Also, thanks to Katja Pitkänen, who is the real breeder of Raiku to my kennel name from my breeding Willy Lee Be My Dream being his mother. pepper and salts: BOS, BOB vet Multi champion Willy Lee Osvald-Pepper - also BIS 3 veteran! Judge in group Gabriela Ridarcikova. Congratulations also to Cheantake team: speacially for Markku Vuorinen, who is Manu's daddy and to Nora Ylikylä "the best groomer in the world".
Harjavalta 10.5.2009
Posted by Irene on May 10th 2009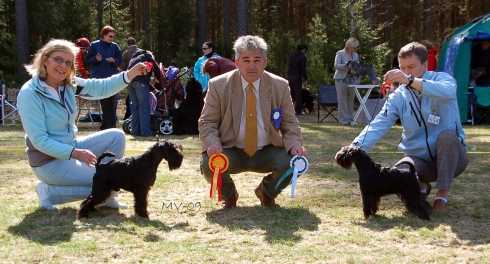 BOB Kristopher Bikin dvor with Irene, judge Cristian Stavarache from Romania, BOS Imbrez Lucky Esqapade with her breeder Mikko Samuli, photo: Markku Vuorinen of Cheantake kennel blacks: BOB, CAC Kristopher Bikin dvor, "Romeo" is born in Slovakia, breeder Zuzana Havliková junior: Willy Lee Black Lisemette, very good 1/1 salt&peppers: Tristan Astronaut exc4 veterans: BIS3, ecx1, best male 4, BOB vet Multi CH Willy Lee Osvald-Pepper, owners Markku Vuorinen and Nora Ylikylä - congratulations to my friends about taking so good care of this "old man".
"Manu" and Nora, photo: Markku Vuorinen black and silvers: Exc1, best male 2, res. CAC Willy Lee Be My Rainman, my beloved "Raiku" was again very close to become a champion, maybe in the next coat! Willy Lee Amigo exc4