Kajaani ITN Dog Show 9.1.2010
Posted by Irene on January 9th 2010
In the Gallery
Posted by Irene on December 29th 2009
Thank you everybody for all the Christmas greetings, net ones in the Gallery!
Merry Christmas and Happy New Year 2010
Posted by Irene on December 23rd 2009
INT&FIN&LV&EST&S Champion BaltWinner-01, FinnSieger Willy Lee Kid
Posted by Irene on December 19th 2009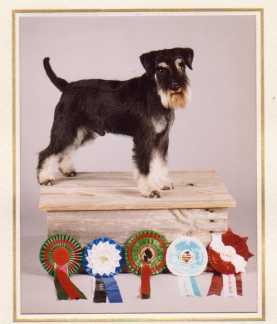 Photo Rajala
Kidi would have been today 12 years old, but yesterday he said farewell to his family and specially to Marjut (Hohkuri) Helle, who owned him even before Marjut had her own family. As Kidi's breeder I express my sympathy to them! Kidi was one of the greatest, a real schnauzer in mini size. However happily Kidi is continuing his life through his offsprings, ia: FIN&EST CH, FinnSg Willy Lee Viktor, FIN&EE CH Willy Lee Be My Rainman, FIN CH Pirius Daiquiri and in Afunique kennel with Viktor's sister FIN CH JW-04, W-04 Willy Lee Vivid Boyant etc.
Helsinki Winner-09 and Nordic Winner-09 12.-13.12.2009
Posted by Irene on December 17th 2009
As we say, you cannot always win! In the shows the question is always about the taste and also many other things. This time we did not get too much, but the dogs where nice and in the good condition. Here some photos from the competition:
FIN&EST CH,Finnsieger Willy Lee Viktor "Viki" with Tarja

Finnsieger Peacemaker's Frosted Edward "Eetu"with Irene NEXT DAY
"Viki" on the table and FIN CH Willy Lee Ubertino "Tino" on the floor with Teija
"Viki" on the table and "Eetu" on the floor All photos from our friends Miika Ylipahkala and Jin Kaakinen, owners of FIN CH Nir Bluz Lananasim "Rätti", many thanks to them.
Turku Speciality Show 29.11.2009
Posted by Irene on December 1st 2009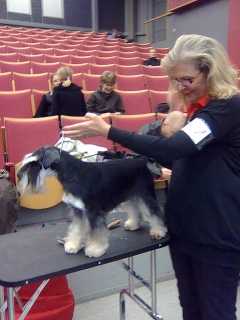 Eetu (FrostedEdward) and Irene Photo Anja Suuntala
Black-and-silvers, judge Malgorzata Supronowicz, Poland open cl. exc2, best male2 FinnSg Peacemaker's Frosted Edward, owner Willy Lee kennel, holder Seija Kontturi Pepper&salts judge, Petter Fodstad, Norway vet.cl. exc1, BOB-vet, bm2, BIS-vet INT-Multi Ch. Willy Lee Osvald-Pepper, owner Cheantake kennel
BIS vet judge Petter Fodstad, Manu and Nora Photo Make Vuorinen