Orivesi 12.6.2010
Posted by Irene on June 13th 2010
Black and silver mini schnauzers judge Berri Beare, Irland BOB, CAC Willy Lee Carissimo, owner Marja Mäkinen - Congratulations to the owner and best luck in the future! BOS, CAC Afunique Qaanaaq, owner Kirsi Kentala - Congratulations also to the daughter of our Champion Willy Lee Vivid Buoyant!
Speciality Show all schnauzers & pinschers in Porvoo 12.6.2010
Posted by Irene on June 13th 2010
International Championship of Tiffany Astronaut
Posted by Irene on June 10th 2010
Harjavalta 30.5.2010
Posted by Irene on May 31st 2010
Minischnauzers all colours judge Marija Kavcic, Slovenia Blacks: Kristopher Bikin dvor open exc2, best male 3 res-CAC Willy Lee Black Tatum jun exc1, BOS, CAC Willy Lee Black Hillary open 1, best female2, res-CAC Black-and-silvers: Willy Lee Frosted Upswing jun very good3 Willy Lee Frosted Utmost jun exc2 Dumond Be My Sunkid open1, BOB, CAC Willy Lee Wild Winner ch exc1, best male2 Willy Lee Amico vet exc1, best male4, BOB-vet Salt&peppers: Willy Lee Seamus-Pepper intermediate exc2, best male2, res-CAC Whites: Willy Lee Dumond Snowman open very good2 Willy Lee Pandora Bianca intermediate exc1, BOS, CAC Willy Lee Pixi Bianca intermediate exc2, best female3
Rauma National Show 15.5.2010
Posted by Irene on May 20th 2010
Judge for all colours mini schnauzers Joan Beech, Canada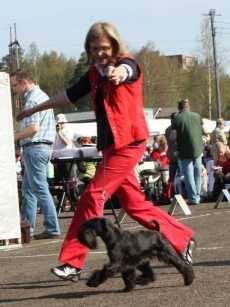 "Romeo" photo Nadja Leino Blacks: Open cl: Exc2, best male3 Kristopher Bikin dvor (with excellent critics but minus too short hair)
"Severi" in his first show - excellent! Pepper&salts: Junior cl: Exc2, best male 3 Willy Lee Seamus-Pepper "Severi" owners: Arja Takala and Irene Häyry Black-and-silvers: Open cl: Exc1, best male2, res-CAC Dumond Be My Sunkid, owners Katja Pitkänen and Irene Häyry
"Miksu"
Vaasa INT Dog Show 17.-18.4.2010
Posted by Irene on May 2nd 2010
Judge for all colours of mini schnauzers Kirsti Lummelampi, Finland
Photo: Jasmine Lindstöm Pepper&salts: Vet cl. exc1, BOB, Vet BOB Multi Champion Willy Lee Osvald-Pepper, owners Markku Vuorinen and Nora Ylikylä, you all are superb!
Black and silvers: Ch. class exc1, best male 2 CACIB Fin&N&Est CH, FinnSg Willy Lee Umberto, owners Teija Viitala and Kari Uutela- congrats a lot and hugs to "Caro"!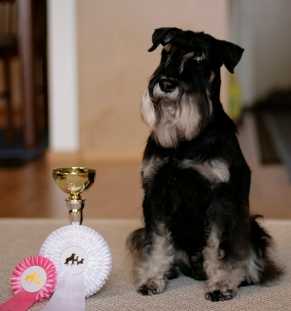 In the same family of Teija and Kari there are two extra beautiful boys "Caro" and his son "Tino" FIN Ch Willy Lee Ubertino!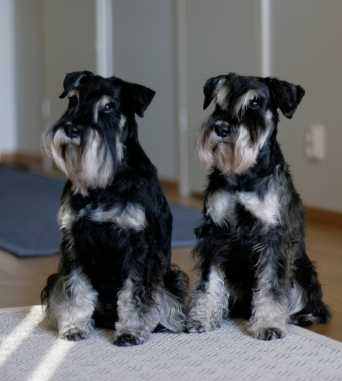 Photos: Kari Uutela