"Manu" Multi Champion still going strong!
Posted by Irene on October 30th 2010
Fantastic news again! "Manu" Multi Champion Willy Lee Osvald-Pepper got today some new titles again in Latvia - no he is also Balt W-10, LV VetCh, Balt vetCh! In competition He was also best male 4 and BOB vet. Congrats to the owners Markku Vuorinen and Nora Ylikylä - this is superb!
Seinäjoki INT Show 24.10.2010
Posted by Irene on October 24th 2010
EXTREMELY Happy day today! In black and silvers, veterans NEW FINNISH CHAMPION Willy Lee Amico, owner and handler Tarja Kuusisto. Judge Per Kristian Andersen, Norway veteran cl. exc 1, best male 2, BOB-Vet,CAC, FI CH Willy Lee Amico Congrats to Tarja and Janne and also to grooming help Katja!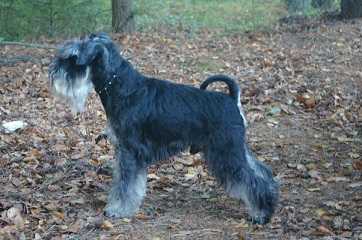 FI CH Willy Lee Amico, 8 years. Photo: Taru Nordlund
Norway - Tromsö INT Show 17.10.2010
Posted by Irene on October 18th 2010
In Norway INT Show judge Anne Tove Strande, Norway black and silvers: ch class: exc2 best male 2, res-CACIB FIN&EST&N CH, FinnSG Willy Lee Umberto ch class: exc3 best male 3, CAC FIN Ch, FinnSG Willy Lee Ubertino -> became Norwegian Champion N Ch! Congratulations Teija Viitala and Kari Uutela!!!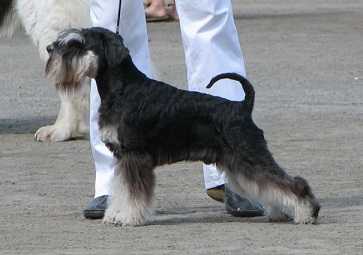 "Tino" FIN&NO CH, FinnSieger Willy Lee Ubertino photo: Kari Uutela
Sweden - Sundsvall INT Show 9.10.2010
Posted by Irene on October 11th 2010
Judge Dina Korna from Estonia pepper&salts open cl exc1, best female 2, CAC, res-CACIB: C.I.B. FIN&EE< CH Tiffany Astronaut became Swedish Champion SE CH blacks open cl exc1, BOS, CACIB, CAC: Cooper Oric Central black and silvers open cl exc3 FIN CH, FinnSG Peacemaker's Frosted Edward Excellent, very quick trip to gain so good results, thank you Katja for company and excellent handling of "Penni" Tiffany Astronaut.
Hämeenlinna - Tuulos Group Show 9.10.2010
Posted by Irene on October 11th 2010
Judge changed from Estonian Anne Klaas to Finnish judge Harri Lehkonen: whites: open cl exc2, best male 3 Enzo vom Landeskroner Weiher black and silvers: vet cl exc1, best male 4, BOB vet Willy Lee Amigo owned by our handler Tarja Kuusisto
Helsinki Mastery Show 5.9.2010
Posted by Irene on September 6th 2010
Judge Dick Baars from The Netherlands:
in whites: Ulmus Mengo Celebration jun exc1, BOB, CAC, Royal Canin junior winner, breeder Oksana Kmiezik, owners Eija-Maaria Jussila and Irene Häyry, holder Seija Kontturi in blacks: Cooper Oric Central open exc2, best male 3, res. CAC, breeder Libor Sakar, owner Irene Häyry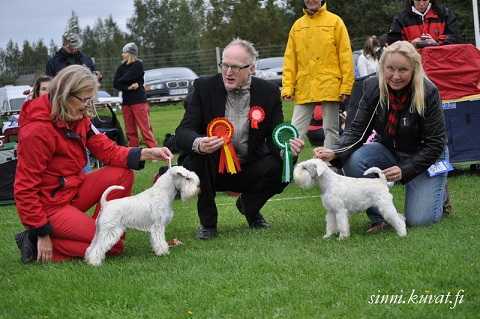 BOB Ulmus Mengo Celebration, judge Dick Baars, BOS Niwigga's White Mona Lisa Photo: sinni.kuvat.fi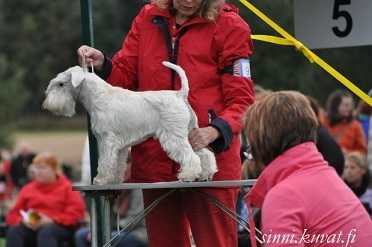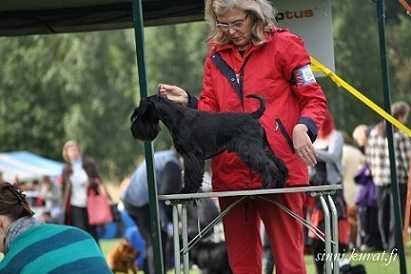 Ulmus "Jasper" and Cooper on the table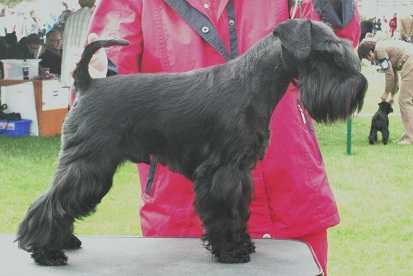 Cooper Oric Central, photo: Tarja Kuusisto