Saturday in Eura 5.3.2011
Posted by Irene on March 6th 2011
Mainly nice photos from Eura's dog show. The judge Per Kristian Andersen from Norway is maybe one of the strictest I know, so not so happy for all the results, but let's share the photos this time, most of them from Pia Vuorela, many thanks.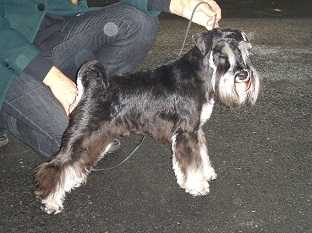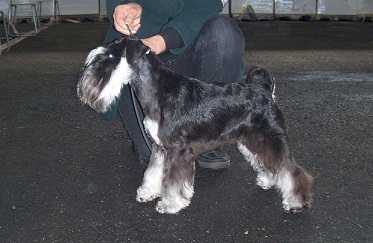 First Knight Grasant "Kosti" exc1, CQ, BM2, res.CAC Breeder Anna Bielinsca, owners Eija-Maaria Jussila and Irene Häyry, holder Lotta Terho - most thankful to Anna about this beauty!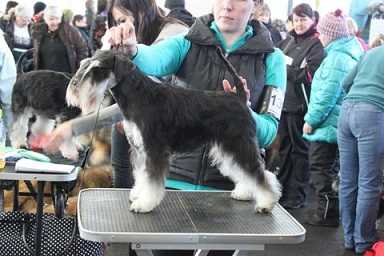 Our "Eetu's" daughter Dumond Be My Xtra Dream exc1, CQ, BF2, res.CAC, owner Katja Pitkänen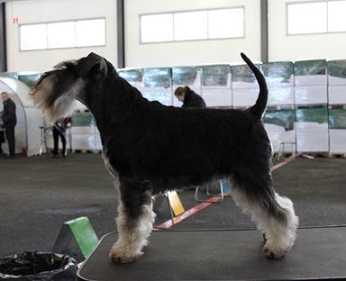 Caro, our Cooper's daughter, owner Pia Vuorela-------------Nelli from Peacemaker's- new Finnish Ch, owner Minna Lindell
Manu - Our greatest hero!
Posted by Irene on February 13th 2011
"Manu" - WORLD VETERAN WINNER-10, INT & NORD CH, FIN, LTU, EST, S & N CH, EEVCH, LTVW´2010, LT VCH, BALTW-10, LV VETCH, BALT VETCH, FinnSieger WILLY LEE OSVALD-PEPPER got the honour to be invited to the contest Veteran of Veterans with his owners Nora Ylikylä and Markku Vuorinen. This time he was not the winner, but being however a excellent represantative of our fantastic breed of miniature schnauzers!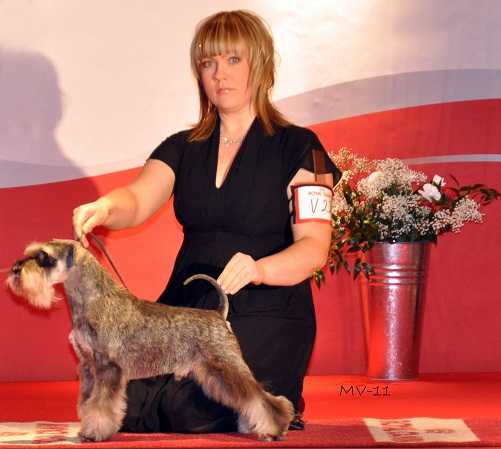 Two beauties - Manu and Nora in the contest of Veteran of Veterans 2011, Photo taken by the owner Markku Vuorinen.
Turku INT Dog Show 22.1.2011
Posted by Irene on January 23rd 2011
Some best results from this show: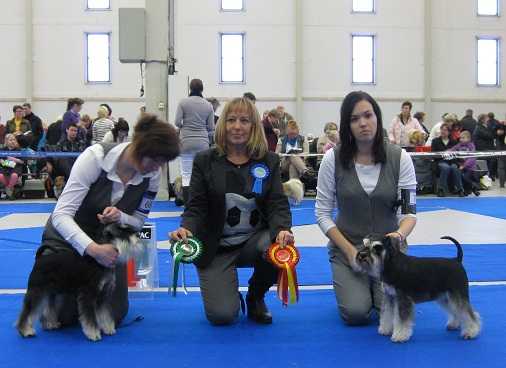 FICH Once More Maly kavalir and Tarja Kuusisto, Mrs Arnetoli, Peacemaker's Nefernefer and Minna Lindell Judge Manola Poggesi Arnetoli from Italy: Black and silvers: BOS, CACIB FI CH Once More Maly kavalir "Junnu", owners Katja Pitkänen and Irene Häyry, handler-holder Tarja Kuusisto Pepper&salts: Peacemaker's Aramis Pepper "Aramis" jun exc1 CACQ, owners Eija-Maaria Jussila and Irene Häyry, holder Petra Vaelma best male3, res.CAC Julian Astronaut "Juri", owners Marja-Terttu Rusi and Irene Häyry best male4, BOB veteran Multi Champion Willy Lee Osvald-Pepper "Manu", owners Markku Vuorinen and Nora Ylikylä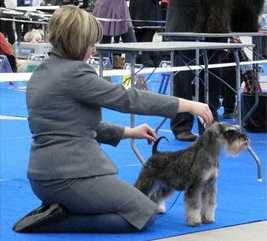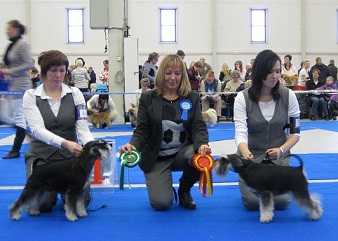 In the photos Nora and Manu, Junnu ja Tarja, Mrs. Poggesi Arnetoli, Nelli ja Minna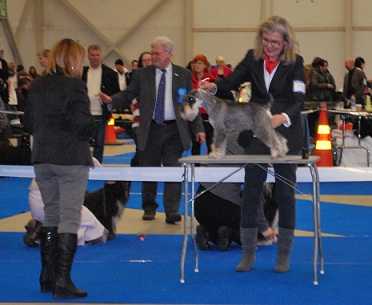 Willy Lee Seamus-Pepper "Severi" with Irene, photo bt owner Arja Takala
In the Gallery - Christmas Cards
Posted by Irene on December 21st 2010
Winner 2010 Show in Helsinki Fair Center 12.12.2010
Posted by Irene on December 20th 2010