Happy trip to Hungary and Serbia
Posted by Irene on August 29th 2011
This time my birthday trip was made with my friend Eija-Maaria to the Central Europe. At first to Budapest with a little Bessie-puppy from Peacemaker's kennel on her way to Israel. That was quite an effort, because it is not very easy to get a dog to Israel, but we succeeded and Bessie got happily at her end in Bluez Lananasim kennel. Then we went to see our friend in Serbia from Pachino- kennel Zeljko and he had a birthday present for me which we had ordered months ago, a tiny little black-and-silver girl Maya. And at the same time Eija-Maaria had black Uma to come with her to Finland. We had a great fun as normally when we are travelling, this time in very hot conditions - 36 degrees.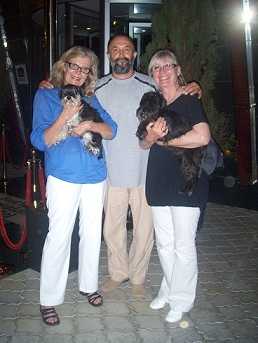 Irene and Maya, Zeljko Mijatovic, Eija-Maaria and Uma
Keuruu 14.8.2011
Posted by Irene on August 16th 2011
Rossi left us today!
Posted by Irene on August 4th 2011
Farewell beloved great dog FIN CH, FinnSieger Willy Lee Black Rascal, better known by everybody with name ROSSI! Suddenly came the day without warning you decided to leave us. Great sorrow is in the hearts of your holders Seija and Tuomo Kontturi as well as in my heart as the owner. I guess also your former trainer Marjut Helle will never forget you.
FIN CH, FinnSg Willy Lee Black Rascal FIN37362/98 Photos taken by me this summer, Rossi in almost ebony black harsh coat still at the age almost 13 years.
Welcome to Finland
Posted by Irene on August 2nd 2011
Pori INT 30.7.2010
Posted by Irene on August 1st 2011
Excellent, good and nice results, depends what you expect:) Judge Pedro Delerue from Portugal black and silvers: ch cl exc1, CQ,BM3 FI&EE&LV Ch Once more Maly kavalir, handler Tarja BOB vet FI CH Willy Lee Amico, owner and handler Tarja Kuusisto blacks: ch cl exc, CQ, BM3 FI&SE CH Cooper Oric Central (Mam's love) jun cl exc Willy Lee Black Barbi owner and handler Pia Vuorela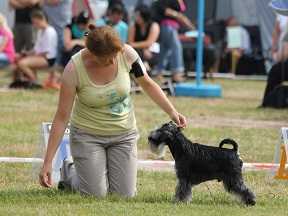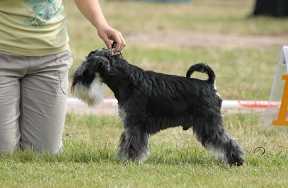 Tarja Kuusisto with her 9 years old FI CH Willy Lee Amico BOBvet in Pori2011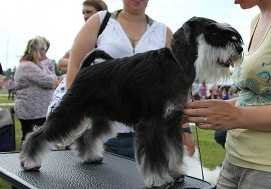 BM3 "Junnu" FI&EE&LV Champion Once More Maly kavalir on the table.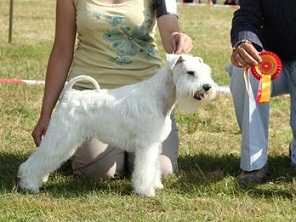 BOB, CAC the son of our FI CH Ulmus Mengo Celebration "Aarre" Peacemaker's W Absolutely Mine, owners Eija-Maaria Jussila and Katja Pitkänen, handler Tarja Kuusisto All Photos Heidi Ojanen
Puppy photos from this spring!
Posted by Irene on July 21st 2011
Some nice puppy photos sent to me from the owners from this spring 2011:
Photos the owner Mari Jussila from W L Frosted Issima alias Vilma
Vilma's sister W L Frosted Ira alias Siru before leaving our house, owner Pirjo Siltanen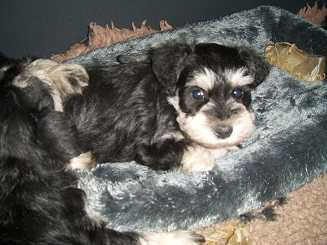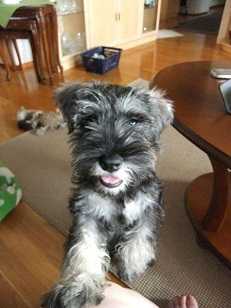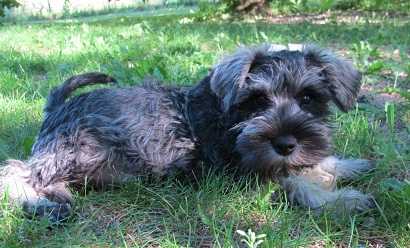 W L Helga-Pepper alias Elli, owner Tarja Heino and Hely-Pepper owned by Leila Karavirta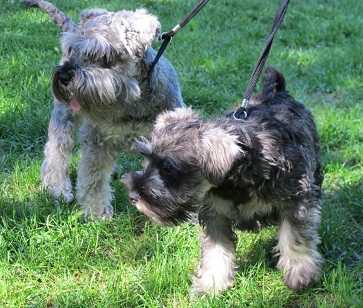 Hely with "older-sister" Oona W L Oceania-Pepper
Something interesting in this bag! W L Gaby-Pepper "Siru" owner Tiina Suominen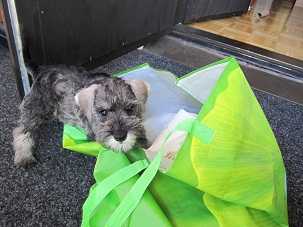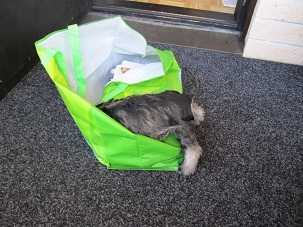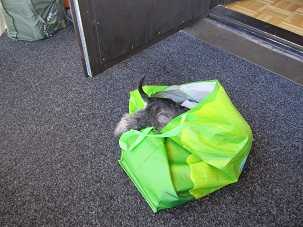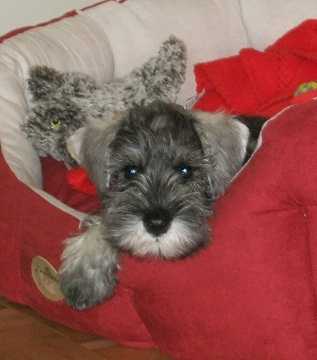 Siru at her home. Photos taken by the owner Tiina Suominen