Christmas cards in the gallery!
Posted by Irene on December 14th 2011
Happy Birthday to Hertta 17 years old!
Posted by Irene on December 9th 2011
Willy Lee Bunny-Pepper SF54709/94 "Hertta" has today her 17th Birthday! She is the daughter of our late very much loved house dogs FIN CH, FinnSg Peacemaker's Argument "Aksu" and FIN CH Swingtail Acacia "Pipu", owned by Anita Bragge(Tuuha) and Jarmo Junnila. We all, also her dog mates Rumba and Vikki as well me as the breeder wish her still more days to live as well as she is feeling just today.
Love Story puppies
Posted by Irene on November 18th 2011
Speciality Show in Hattula
Posted by Irene on November 12th 2011
Father of our puppies Multi Champion Willy Lee Osvald-Pepper Judge Charlotte Orre BIS2 veteran BOB veteran BM4
Manu and Nora Ylikylä, photo: Markku Vuorinen
Raisio 11.9.11
Posted by Irene on September 11th 2011
In Raisio our old gentleman "Manu" made our day at first winning his color and then being in group 2nd, congrats as always to the owners Make Vuorinen and Nora Ylikylä! Judge Dusan Paunovic from Serbia: pepper&salts vet cl exc1, BM1, BOB, BOB vet, GR2 C.I.B POHJ MVA FIN MVA SE MVA NO MVA EE MVA EE VMVA LT MVA LV VMVA LT VMVA MVV-10 BALT VMVA BALTVV-10 LTVV-10 EEVV-11 FinnSg WILLY LEE OSVALD-PEPPER FIN13440/01 open cl exc1, BM3, res.CAC Julian Astronaut, owners Marja-Terttu Rusi and Irene Häyry, handler Pekka Nisukangas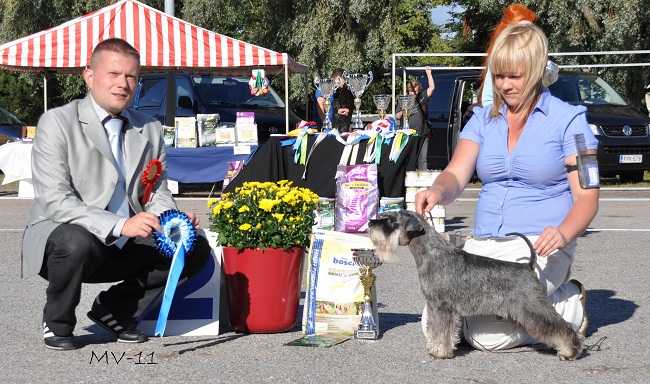 Dusan Paunovic, Manu (GR2) and Nora
black and silvers: jun cl exc1, BM4 First Knight Grasant, owners Eija-Maaria Jussila and Irene Häyry, holder Lotta Terho, handler Emilia Vandell blacks: Intermed cl exc1 Willy Lee Black Barbi, owner Pia Vuorela, handler Anna Varis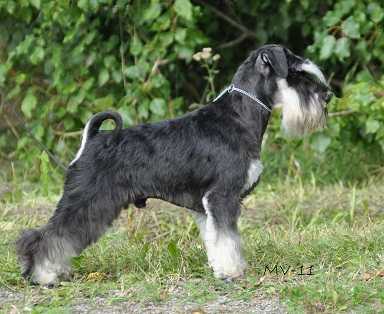 First Knight Grasant "Kosti" All photos Markku Vuorinen
Tervakoski INT Show 28.8.2011
Posted by Irene on August 29th 2011
Judge Karl Eddie Berge from Norway: Junior Exc1, BOB, CAC First Knight Grasant, breeder Anna Bielinska, owner Peacemaker's and Willy Lee kennel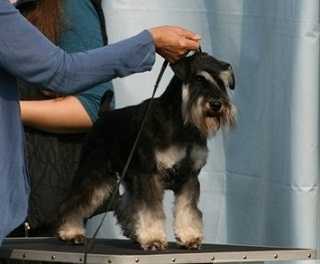 junior First Knight Grasant BOS, CAC - photo: Susanna Malasto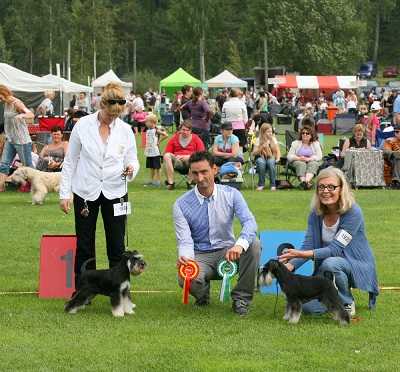 BOB Silver Rainbow Ganna Glavari, judge Karl Eddie Berge, BOS First Knight Grasant photos Svetlana Kruglova/Irina Lukasevits